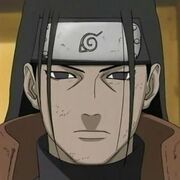 Hashirama Senju'nun küçük kardeşi yaprak köyünün ikinci hokagesidir. Hiç su olmayan yerlerde bile devasa bir şelale yaratabilir.Uchiha klanı söz konusu olduğunda Hashirama kadar büyük bir rol oynamaktadır.Tobirama Hokage olduğunda Uchiha Klanına şeref göstergesi olarak Konoha'nın askeri polis teşkilatının liderliğini bahşetmiştir.Bu gerçeği örtbas etmek için kurulan bir tuzaktır.Gerçek amacı Uchiha Klanı'nı yönetimden uzak tutmak ve "ANBU" altında onların kontrollerini sağlamaktır. Uchiha Madara ile Ölüm Vadisi adlı yerde dövüşüp yenmiştir en son Orochimaru'nun Edo Tensei Kinjutsusu ile çağırılmıştır.Uzumaki Mito ile evlidir.
(Berkay Karaduman'a yardımlarından dolayı teşekkürler...)
Bilgiler

(千手柱間, Senju Hashirama)

1. Hokage (初代火影, Shodai Hokage)

İlk Görünüş
Manga
118. Bölüm
Anime
Naruto 69. Bölüm
Video Oyunu
Naruto: Ultimate Ninja 3
Şunlarda Beliriyor:
Anime, Manga ve Oyunda
Seslendirme
İngilizce
Jamieson Price
Japonca
Takayuki Sugo
Personal
Doğum Günü
23 Ekim
Cinsiyet
Erkek
Yaş
Rahmetli
Boy
185.1 cm
Kilo
74 kg
Kekkei Genkai

Tahta Elementi

Olduğu Seviyeler

Konohagakure Kurucularından
Senju Klanı'nın Lideri
Hokage

Olduğu Kuruluş
Konohagakure
Klan
Senju Klanı
Seviye
Ninja Seviyesi
Kage

Aile




Tobirama Senju (Küçük Kardeşi)
Mito Uzumaki (Karısı) (Sadece Mangada)
Tsunade (Kız Torunu)
Nawaki (Erkek Torunu)

Nature Type




Tahta Elementi
Toprak Elementi
Su Elementi

Jutsuları




Bringer-of-Darkness Technique (Sadece Mangada)
Hokage-Style Sixty-Year-Old Technique - Kakuan Entering Society with Bliss-Bringing Hands
Wood Release Secret Technique: Nativity of a World of Trees
Ad blocker interference detected!
Wikia is a free-to-use site that makes money from advertising. We have a modified experience for viewers using ad blockers

Wikia is not accessible if you've made further modifications. Remove the custom ad blocker rule(s) and the page will load as expected.