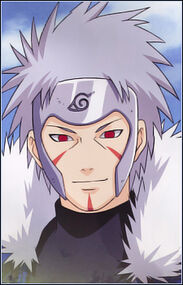 Hashirama Senju 'nun küçük kardeşi Konohagakure'nin ikinci Hokagesidir. Hiç su olmayan yerlerde bile devasa bir şelale yaratabilir.Uchiha Klanı söz konusu olduğunda Hashirama kadar büyük bir rol oynamaktadır.Tobirama hokage olduğunda Uchiha Klanına şeref göstergesi olarak Konoha'nın askeri polis teşkilatının liderliğini bahşetmiştir.Bu gerçeği örtbas etmek için kurulan bir tuzaktır.Gerçek amacı Uchiha Klanı'nı yönetimden uzak tutmak ve "ANBU" altında onların kontrollerini sağlamaktır. İlk öğrencileri Sarutobi Hiruzen,Homura Mitokado ve Koharu Utatane'dir.
(Berkay Karaduman'a yardımlarından dolayı teşekkürler...)
Tobirama Senju[1]

İlk Görünüş
Manga
118. Blüm
Anime
Naruto 69. Bölüm
Video Oyunu
Naruto: Ultimate Ninja 3
Şunlarda Beliriyor:
Anime, Manga ve Oyunda
Seslendirme
İngilizce

Peter Lurie
Jamieson Price (Video Oyunlarında)

Japonca
Kenyu Horiuchi
Kişisel Özellikler
Doğum Günü
Şubat 19
Cinsiyet
Erkek
Yaş
Rahmetli
Boy
182.3 cm
Kilo
70.5 kg
Sınıflandırma
Hokage
Olduğu Kuruluş
Konohagakure
Takım
Tobirama Takımı
Klan
Senju Klanı
Rütbe
Ninja Seviyesi
Kage

Aile




Hashirama Senju (Abi)
Tsunade (Yeğen Kızı)
Nawaki (Yeğen Oğlu)

Jutsu




Bringer-of-Darkness Technique (Sadece Anime'de)
Summoning: Impure World Resurrection (Sadece Anime'de)
Water Release: Water Dragon Bullet Technique (Sadece Manga'da)
Water Release: Water Encampment Wall
Water Release: Water Shockwave (Sadece Anime'de)

Ekipman




Yıldırım Tanrısı'nın Kılıcı(Anime only)
Ad blocker interference detected!
Wikia is a free-to-use site that makes money from advertising. We have a modified experience for viewers using ad blockers

Wikia is not accessible if you've made further modifications. Remove the custom ad blocker rule(s) and the page will load as expected.